TU Darmstadt, September 17-20, 2019
The goal of this workshop is to bring together people from different backgrounds who are interested in automorphic forms on higher rank groups. The schedule will be relaxed in order to leave room for discussions.
Speakers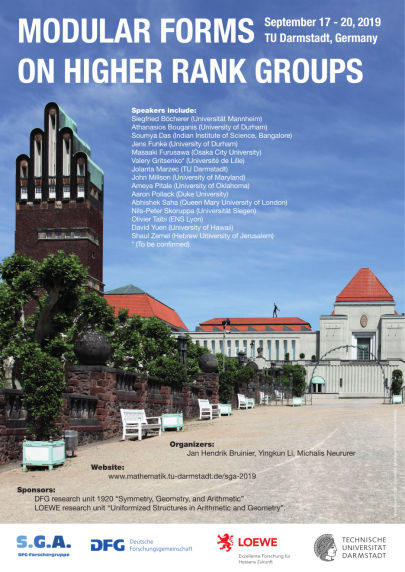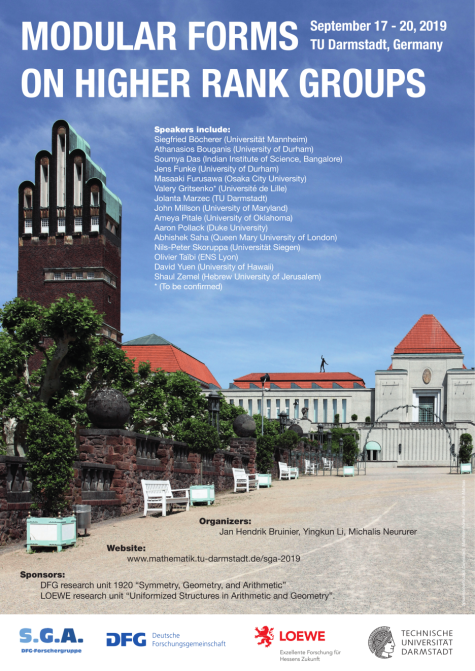 Siegfried Böcherer (Universität Mannheim)
Athanasios Bouganis (University of Durham)
Soumya Das (Indian Institute of Science, Bangalore)
Jens Funke (University of Durham)
Masaaki Furusawa (Osaka City University)
Jolanta Marzec (TU Darmstadt)
John Millson (University of Maryland)
Ameya Pitale (University of Oklahoma)
Aaron Pollack (Duke University)
Abhishek Saha (Queen Mary University of London)
Nils-Peter Skoruppa (Universität Siegen)
Olivier Taïbi (ENS Lyon)
David Yuen (University of Hawaii)
Shaul Zemel (Hebrew University of Jerusalem)
Program


Tuesday
Wednesday
Thursday
Friday
9:30-10:20
Registration
Furusawa,

(opens in new tab)

Slides
Pitale,

(opens in new tab)

Slides
Millson
10:30-11:00
Registration
Coffee break
Coffee break
Coffee break
11:00-11:50
Skoruppa,

(opens in new tab)

Slides
Marzec
Saha,

(opens in new tab)

Slides
Pollack
12:00-14:00
Lunch break
Lunch break
Lunch break
Lunch break
14:00-14:50
Böcherer
Bouganis
Zemel
Funke
15:00-15:30
Coffee break
Coffee break
Coffee break
15:30-16:20
Das
Taibi
Yuen,

(opens in new tab)

Slides
Participants will receive a booklet that contains practical information for the workshop, along with the titles and abstracts of the talks. You can download the booklet here (opens in new tab) .
Excursion and conference dinner
There will be a guided tour of Mathildenhöhe on Wednesday 16:45-18:45 after the talks.
The conference dinner will take place at the Italian restaurant Sardegna on Thursday at 19:00.
Location
The registration and the talks take place in the Lecture Hall 123 of building S1|03, Hochschulstraße 1, 64289 Darmstadt. The coffee breaks take place in Seminarraum 116 in the same building.
The Campus Navi is helpful for finding the building.
Hotel reservations
Due to a car convention in Frankfurt that takes place at the same time as our workshop, the hotels in Darmstadt will fill up fast. So we recommend that participants make their hotel reservations early.