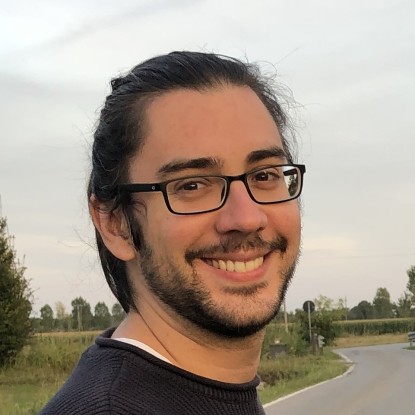 Arbeitsgebiet(e)
Kontakt
zuffetti@mathematik.tu-...
work +49 6151 16-22467

Work S2|15 426
Schlossgartenstraße 7
64289 Darmstadt
Research interests
I am working on orthogonal Shimura varieties, with particular interest in their interaction with Siegel modular forms. More precisely, I deal with cones of special cycles, the problem of their polyhedrality, the equidistribution of the irreducible components of such cycles, and the injectivity of the Kudla-Millson theta lift.
Downloads
modcone_genus_2, a SageMath program to compute modular cones.

(wird in neuem Tab geöffnet)

is an explanation on how to use it. Here
My

(wird in neuem Tab geöffnet)

at GU Frankfurt, under the supervision of Prof. Dr. Martin Möller. PhD thesis
Title: Cones of special cycles and unfolding of the Kudla-Millson lift.
Date of defense: 15.3.2022.
Final mark: Summa cum laude (with distinction).
Its 4 chapters are now 4 different papers (see "Publications"). These papers provide revised versions and improvement of results of my thesis.
Teaching
Teaching assistant of Höhere Mathematik I – Winter semester 2023/2024.
Teaching assistant of Mathematics III (for Electrotechnics) – Winter semester 2022/2023.
Teaching assistant of Linear Algebra II – Summer semester 2022.
Teaching assistant of Algebra – Winter semester 2020/21.
Teaching assistant of Elementary Number Theory – Summer semester 2020.
Teaching assistant of Linear Algebra I – Summer semester 2019.
Teaching assistant of Complex Algebraic Geometry I – Winter semester 2018/19.