The full reports of the Department of Mathematics are available here.

CRC-TRR 154: Mathematical Modelling, Simulation and Optimization using the Example of Gas Networks
Subprojects:
• B01: Adaptive Dynamical Multiscale Methods
• C04: Galerkin methods for the simulation, calibration, and control of partial differential equations on networks
• C05: Observer-based data assimilation for time-dependent flows in gas networks
Project partners: Friedrich-Alexander-Universität Erlangen-Nürnberg, TU Berlin, TU Darmstadt, WIAS Berlin, Universität Duisburg-Essen, DFG, 2014 – 2022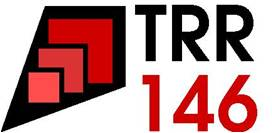 CRC-TRR 146: Multiscale Simulation Methods for Soft Matter Systems
Subproject C3: Spinodal decomposition of polymer-solvent systems
Project partners: Johannes Gutenberg Universität Mainz, Max-Planck-Institut für Polymerforschung, DFG, 2014 – 2022
In-Vivo Wall Shear Stress Measurements using Magnetic Resonance Imaging
Wall shear stress is believed to play a key role in the development of vascular diseases, but in context of clinical imaging techniques wall shear stress is an unobservable quantity. The mathematical part of this joint project deals with the inverse problem of reconstructing the wall shear stress from velocity data given by magnetic resonance imaging.
Project partners:
Institute for Fluid Mechanics and Aerodynamics (SLA), Department of Mechanical Engineering, TU Darmstadt
Department of Radiology – Medical Physics, University Medical Center Freiburg
DFG-EG 331/1-1, 2016 – 2019
Structure Preserving Adaptive Enriched Galerkin Methods for Pressure-Driven 3D Fracture Phase-Field Models
The project is concerned with the development of innovative enriched Galerkin methods for the reliable simulation of pressure-driven fracture problems. Within this project, convergent adaptive mesh-refinement schemes based on new efficient error estimators for the variational inequality associated with the fracture irreversibility will be developed.
Project within DFG-SPP 1748, 2018 – 2021
Variational quantitative phase-field modeling and simulation of powder bed fusion additive manufacturing
Powder bed fusion additive manufacturing (PBF-AM) is a promising alternative to conventional process technology of metal materials and enables a new route for the design of materials with controlled microstructure. This project aims at a new mathematical approach and numerical analysis to derive quantitative variational non-isothermal phase-field models which, beyond the state-of-art, are able to describe the interactive processes of heat-melt-microstructure-stress evolution during PBF-AM.
Project within DFG-SPP 2256
M3TB2015
International Workshop Multiscale Models in Mechano and Tumor Biology:
Modeling, Homogenization, and Applications
2015
| Project | Funding period |
| --- | --- |
| EWAVE-ERWAS, Energiemanagement Wasserversorgung (BMBF) | 2014 – 2017 |
| Multiscale structure-functional modeling of musculoskeletal mineralized tissues (in DFG-SPP 1420) | 2009 – 2016 |
| Biomimetic Materials Research (DFG) | 2009 – 2015 |
| Direkte und Inverse Probleme nichtlinearer Drift-Diffusionsgleichungen | 2012 – 2014 |
| Skalenübergreifende Modellierung in der Strömungsmechanik und Meteorologie (DFG) | 2007 – 2013 |
| Vollständig Raum-Zeit-adaptive Verfahren für die numerische Berechnung von transienten Magnetfeldern (DFG) | 2006 – 2009 |
| Strömung und Verbrennung in zukünftigen Gasturbinenbrennkammern (DFG) | 2004 – 2008 |