Polymake
polymake is a software tool for computations in the fields of combinatorial geometry, in particular convex polytopes and polyhedra, polyhedral and simplicial complexes, of tropical geometry, like e.g. polytropes, and of toric geometry, where it deals with lattice polytopes and their associated toric ideals and varieties.
Contact: Michael Joswig, Andreas Paffenholz

SCIP – Solving Constraint Integer Programs
SCIP is a framework for Constraint Integer Programming and branch-cut-and-price. It is also currently one of the fastest non-commercial mixed integer programming (MIP) solvers. In Cooperation with the Zuse Institute Berlin and the University of Erlangen-Nürnberg SCIP is continuously improved and extended.
Contact: Marc Pfetsch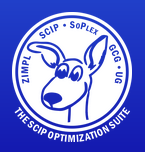 SCIP-SDP
SCIP-SDP is a plugin for SCIP to solve mixed integer semidefinite programs. It combines the branch-and-bound framework of SCIP with interior-point SDP-solvers like DSDP, SDPA and MOSEK. It provides the data handling, presolving, propagation, heuristics and interfaces to the SDP-solvers as well as readers for a modified sparse SDPA-format and the conic benchmarking format.
Contact: Tristan Gally
Former: Sonja Mars