Dr. Kai Habermehl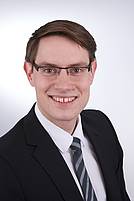 Research Interests
Truss Topology Design
Semidefinite Programming
Mixed Integer Nonlinear Programming
Applied Mathematics
Project
Collaborative Research centre 805: (sponsored by DFG) Control of uncertainty of load carrying systems in mechanical engineering
Subproject A4: Optimal combination of active and passive components via mixed integer semidefinite programming
Talks
SIAM 2011
Uncertainties 2012
GAMM 2012
ISMP 2012
Publications
K. Habermehl: Robust optimization of active trusses via mixed-integer semidefinite programming, TU Darmstadt, Dissertation, 2013.
K. Habermehl, S. Ulbrich: Achilles High Heel – Mach einen Schuh draus!, Mitteilungen der Deutschen Mathematiker Vereinigung (DMV), 21:79-83, 2013.
L. Mosch, S. Adolph, R. Betz, J. Eckhardt, A. Tizi, J. Mathias, A. Bohn, K. Habermehl, and S. Ulbrich. Control of uncertainties within an interdisciplinary design approach of a robust high heel. Journal of the brazilian society of mechanical sciences and engineering, special issue Uncertainties 2012, 2013.
R. Platz, S. Ondoua, K. Habermehl, T. Bedarff, T. Hauer, S. Schmitt und H. Hanselka.: Approach to validate the influences of uncertainties in manufacturing on using load-carrying structures, ISMA2010 International Conference on Noise and Vibration Engineering, pp. 5319-5334, Leuven/Belgium, 20 – 22 September 2010.
H.Birkhofer, R. Engelhardt, K.Habermehl and M.Wiebel: Uncertainty in process chains and the calculations of their propagation via Monte-Carlo simulation, In 12th International Dependency and Structure Modelling Conference, DSM10, 22 – 23 July 2010, Cambridge, UK.
K. Habermehl: Index Tracking – Minimierung des Tracking Errors mittels gemischt-ganzzahliger quadratischer Optimierung, TU Darmstadt, Diplomarbeit, 2008.