Master of Science Mathematics
Darmstadt is located just south of Frankfurt (Main) and right in the centre of the Rhine-Main area, which is not only the second largest economic area in Germany but also known as a lively and lovable part of the country with high standard of life. Here you have excellent job prospects, and because of the central economic and geographic location Darmstadt is also internationally well connected.
The Technische Universität (TU) Darmstadt is one of the leading technical universities in Germany (member of the German TU9 network). Outstanding fields of research with a focus on interdisciplinary and excellent practical oriented teaching, makes us an attractive place to study for students from all over the world. It also qualifies our students for demanding jobs in in the fields of Engineering and Business. With a degree from TU Darmstadt you have the some of the best job perspectives because our graduates are held in high esteem within the business world. In the world wide QS Graduate Employability Ranking TU Darmstadt is among the top 70 universities.
The Department of Mathematics is one of the largest mathematical departments in Germany. Our more than 1000 students value and appreciate the excellent and intensive support by their lecturers, wide range of specialization opportunities and research fields as well as our interdisciplinary and international oriented teaching methods. Further-more, we work closely with other disciplines within TU Darmstadt such as Engineering, Natural and Computer Sciences but also Social Sciences and Humanities.
About the programme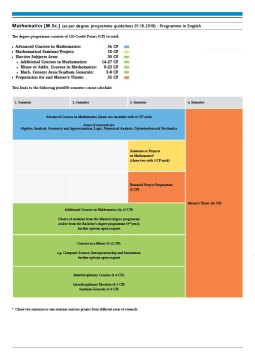 The master programme M.Sc. Mathematics is an English study program. The standard period of study is four semesters (two years).
In the compulsory part you choose two advanced courses with one specialization each out of seven research fields:
Algebra
Analysis
Logic
Numerical Analysis
Optimization
Applied Geometry
Stochastics
In the elective part of the programme you either choose a minor out of the course catalogue of TU Darmstadt or you select a third mathematical specialization.
Interdisciplinary courses as well as the "Studium generale" are also part of the programme. Those parts are designed to provide the opportunity of internships or courses which are not mathematical.
Studying the master programme mathematics at Technische Universität Darmstadt will qualify you to:
Classify recent research
Present and reflect mathematic issues
Systematically solve mathematic problems
Apply gained expertise of other disciplines and use them in scientific discourse.
To get admitted for our study programme the following is necessary:
successful graduation of a mathematical bachelor programme
basic knowledge and methods at least in Analysis, Algebra, Numerical Analysis, Stochastics
Specialization in at least two research fields

Algebra
Analysis
Geometry and Approximation
Logic
Numerical Analysis and Scientific Computing
Optimisation
Stochastics

Language skills in English (C1 of CEFR; equals a TOEFL score from 95 up)
For more information please see the study regulations of M.Sc. Mathematics, Anhang II, page 3: Kompetenzbeschreibungen.
Please note that a degree in non-mathematical subjects (no matter if Bachelor or Master) usually does not qualify for a Master's programme in Mathematics at TU Darmstadt. If you are unsure, please contact the Coordinator of Student Affairs.
If you are not sure if you are eligible for a Master of Science in Mathematics, we recommend the Online Self-Assessment.
Additional Courses
It is mandatory to choose an additional course or subject. The additional course may be a third mathematical specialisation course or
build on a minor from the bachelor's programme
consist of modules from a bachelor's programme 4th semester or up ("minor intermediate")
consist of modules of a study programme which can be studied without background knowledge ("minor basic")
Application and Admission
For winter semester 2019/20, application deadline is January 15th, 2019.
Please apply via the international office. The button "New Application" will lead you through the process and show which documents are needed: bachelor certificate, diploma supplement or similar documents.
After receiving your written application there will be a formal entrance examination which the competences of the applicant required for the study programme will be reviewed.
A selection panel will decide on the admission of the applicants. It is possible that an admission is only granted with requirements. This means that the applicant has to catch up in missing but necessary knowledge until graduation (no more than 30 CP).
For information about housing, visa or similar topics, please see the pages of the International Office as well.
For all the important material, such as the University Regulations applying to this course, visit the download area.