CRC 805: Control of Uncertainty of Load Carrying Structures in Mechanical Engineering
Subproject A3: Robust Optimization of Load Carrying Systems in Mechanical Engineering
The presence of uncertainty is a prevalent subject in mechanical engineering which can lead to severe economical and safety consequences. The aim of this project is to find -for load-bearing mechanical systems- the optimal robust design regarding uncertainty of parameters (material properties, loading szenarios, etc.) as well as uncertainty of the manufacturing quality. To this end we use simulation-based optimization of geometry, topology and the placement of piezoelectric actuators, whereat we want to apply and extend modern robust optimization techniques.
Contact: Stefan Ulbrich
Former: Philip Kolvenbach, Adrian Sichau
Subproject A4: Mathematical Models and Methods for Optimal Combinations of Passive and Active Components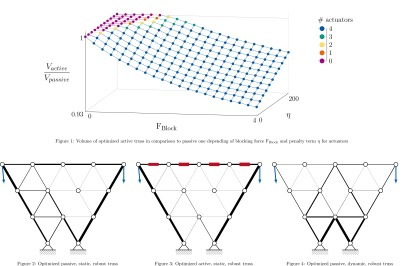 Trusses are one of the most commonly used structures in mechanical engineering. Truss structures are used, for example, within bridges, cranes or transmission towers. In practice they are often over-dimensioned to withstand given forces under uncertainty including unknown loadings or material properties. This project focuses on robust topology optimization and the optimal placement of active elements to cope with uncertainty. Such elements are developed within CRC 805 and can react on these uncertain effects to reduce the dimension of the trusses. Mathematically, the topology optimization and optimal placement of active elements under uncertainty lead to mixed-integer (nonlinear) semidefinite programming problems.
Contact: Marc Pfetsch, Stefan Ulbrich
Former: Tristan Gally, Kai Habermehl, Anja Kuttich, Sonja Mars
Subproject A9: Resilient Design
In this new project, optimization methods for the optimal design of technical systems under uncertainty will be developed. The goal is to find an optimal combination of different components constituting a resilient system structure. The development of problem-specific models and mathematical optimization techniques for the solution of the resulting mixed-integer nonlinear optimization problems is essential.
Contact: Marc Pfetsch, Andreas Schmitt