Speakers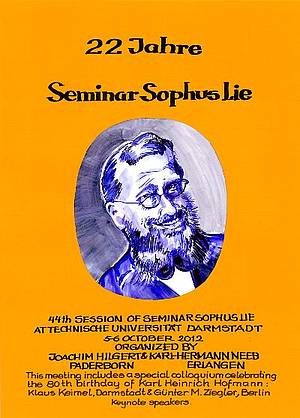 Helge Glöckner (Paderborn)
Karl-Heinrich Hofmann (Darmstadt)
Johannes Hübschmann (Lille)
Klaus Keimel (Darmstadt)
Bernhard Krötz (Hannover)
Jimmie Lawson (Baton Rouge)
Alexander Schmeding (Paderborn)
Konrad Schmüdgen (Leipzig)
Karlheinz Spindler (Wiesbaden)
Karl Strambach (Erlangen)
Günter Ziegler (Berlin)
The conference poster on the right is available for download here.
Friday, October 5
Time
Speaker
Title
09:00 – 09:45
Jimmie Lawson
The Unfolding Story of the Matrix Geometric Mean
Coffee break
10:15 – 11:00
Johannes Hübschmann
A step towards Lie's dream
11:15 – 12:00
Karl-Heinrich Hofmann
Homogeneous spaces of compact groups
Lunch & Coffee
15:15 – 15:30
Burkhard Kümmerer
Opening of the Festkolloquium by the dean of the mathematics department at TU Darmstadt
15:30 – 16:15
Klaus Keimel
Begegnungen mit Karl Heinrich Hofmann und seiner Mathematik (part of the Festkolloquium)
16:45 – 17:30
Günter Ziegler
Das ist doch keine Kunst – Mathematik-Bilder von Leonardo bis Hofmann (part of the Festkolloquium)
The above afternoon session is also the so-called Festkolloquium on the occasion of the 80th birthday of Karl Heinrich Hofmann.
Before the Colloquium there will be a small get-together with coffee at 13:30 in room S215 244. Moreover, in the evening there is a reception and dinner at 18:30 at the "Hessisches Staatsarchiv Darmstadt" (Karolinenplatz 3).
Saturday, October 6
Time
Speaker
Title
09:00 – 09:45
Konrad Schmüdgen
Induced representations of *-algebras in Hilbert space
10:15 – 11:00
Bernhard Krötz
Ext-groups of Harish-Chandra modules
11:15 – 12:00
Helge Glöckner
Regularity properties of infinite-dimensional Lie groups
Lunch
14:15 – 15:00
Karlheinz Spindler
On Theta-congruent numbers, rational squares in arithmetic progressions, concordant forms and elliptic curves
Coffee break
15:15 – 16:00
Alexander Schmeding
The Lie group structure of the diffeomorphism group of a (reduced) orbifold
16:15 – 17:00
Karl Strambach
Imprimitive transformation groups with prescribed action on the blocks